Adoption laws to give children stability
Type of protection :

Granting release
Details

Category: Forced Adoption
Created: Wednesday, 26 March 2014 23:45
Written by AAP
New adoption laws, the first of their type in Australia, have been passed in NSW.
New adoption laws that mean children must be considered for adoption before being placed into temporary foster care, have been passed in NSW.
In the first legislation of its type to be passed in Australia, child protection authorities will now be required to investigate putting vulnerable children, aged under 18, up for adoption before the option of temporary fostering is considered.
The rule would apply only in cases where courts have ordered the child cannot return to his or her family until the age of 18.
Mom charged in adopted daughter's murder says she 'wanted her to go away'
Details

Category: Adopted to death
Created: Thursday, 21 March 2019 22:48
Written by Tribune Media Wire
Adoptive Mother Charged in Teen's Murder Testifies
DOYLESTOWN, Pa. -- A mother charged in the death of her adopted 14-year-old daughter gave chilling testimony Wednesday in a Pennsylvania courtroom.
Sara Packer took the stand against Jacob Sullivan, 46, smirking as she told jurors that she hated her daughter, Grace, saying "Grace has become, for the lack of a better term, a non-entity. I wanted her to go away."
Pa. woman charged in horrific rape and dismemberment of her adopted daughter had been foster mom to more than 30 kids
Details

Category: Adopted to death
Created: Friday, 13 January 2017 10:33
Written by Michael Bryant - The Philadelphia Inquirer via the Associated Press
PHILADELPHIA — A Pennsylvania woman charged in the rape, murder and dismemberment of her adopted 14-year-old daughter took in 30 foster kids before her then-husband was deemed a sexual predator.
State officials on Friday confirmed that former adoption worker Sara Packer and her ex-husband fostered the children from 2000 to 2010, when they led a transient life in northeast Pennsylvania.
The state's Department of Human Services said it was reviewing the family's history leading up to the torture death of adopted daughter Grace Packer.
Baby died in care of foster father who adopted 15 kids
Editors notes:

Baby died in care of gay foster father who adopted 15 kids. Husband is Stephen Ham.

Abusers job or title::

Gay Fostercarers with 15 children and an infant.

Type of protection :

Granting release
Details

Category: Adopted to death
Created: Thursday, 03 October 2019 20:30
Written by KNXV News
Phoenix. Multiple parents are grieving the loss of 4-month-old Samora Cousin. The infant girl died in the backseat of a van Tuesday afternoon, according to Phoenix police.
She was in the care of a foster parent who told officers he picked up the baby for an appointment and forgot to drop her off again before returning to work at the Washington Elementary School District Service Center, where he was a supervisor.
Abuser Name or Alias::

Roger Ham - had 15 adopted children in his [care].

Abusers Organisation::

Arizona Child Protective Services

Type of Abuse::

Physical, Neglect, Death, Medical neglect
Latvia complains to UK parliament over forced adoptions
Details

Category: Forced Adoptions UK
Created: Monday, 09 March 2015 21:46
Written by Owen Bowcott - UK Guardian
Letter to speaker centres on case of six-year-old in London removed from her Latvian mother after claims of neglect and says social services breached international law
Latvia's parliament has formally complained to the House of Commons that children of Latvian descent are being illegally and forcibly adopted by British families.
Ignoring family ties: is it really best for children?
Details

Category: Forced Adoptions UK
Created: Wednesday, 25 May 2016 17:52
Written by Joe Burns - Irish author of "The Secret Courts"
Adoption is the ultimate for of child abuse. While adopters say the child was "Chosen", the child has no say in the matter. Is it any surprise then that the failure rate of adoption is as high as 1 in 4? Or that the suicide rate is very high? Or that there are probably millions of people around the world suffering from a "Primal Wound" and desperate to find out who they are?
Adoption is a selfish act, you take other peoples children to raise as your own on the basis that if they were left with their family, that they might have a bad outcome in life and the almost guarantee them bad outcomes? A judge once said; "Adoption is the breaking up of one family to create another". Children are not pets that can be moved from home to home. Biology means everything, babies start their relationship with their parents in the womb. These babies do not come from "orphanages", there are very few orphanages left in the world. The Adoption Industry is a legal child-trafficking operation, there is big money to be made.
Why did it take a child's death to reveal adoption system failings?
Abusers job or title::

Adoptive Father
Details

Category: Adopted to death
Created: Friday, 23 August 2019 00:49
Written by Stanley Mason - Guardian UK
The case of Elsie Scully-Hicks highlights inadequate levels of scrutiny that social workers have long known need reform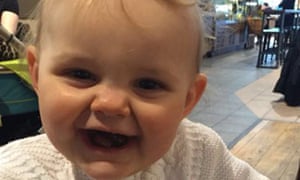 Our adoption system is failing children. The review into the death of Elsie Scully-Hicks identified important lessons for professionals involved in protecting children. But it does not go far enough: it misses a number of fundamental flaws in the system that were evident before her death. These flaws can lead to vulnerable children being rushed into unsuitable adoptions, and then pushed back into care once the adoption breaks down.