Also this month, but in Australia, a Victorian man convicted of raping a 14 year old boy in a public toilet in 1996 successfully obtained a Working with Children Check (WWCC).
The Herald Sun reported that back in 1996 after being raped, the young boy immediately went to police and reported the crime. The defendant who was 30 at the time, who cannot be named, pleaded guilty.
He was convicted but received a wholly suspended nine month sentence so he didn't spend any time in jail for the crime.
He now wants to work with disabled children and despite his initial application for a WWCC being rejected, he successfully appealed to the Victorian Civil and Administrative Tribunal.
News Corp columnists declare Cardinal Pell innocent and 'a scapegoat'
Details

Created: Thursday, 28 February 2019 02:01
Written by Alecomm2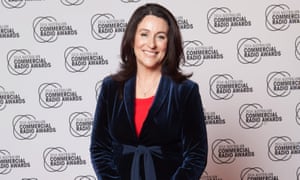 Andrew Bolt and Miranda Devine say Cardinal George Pell's conviction was wrongful and 'accusations are implausible'.
Rupert Murdoch's Australian mastheads have published several prominent articles defending the convicted child molester George Pell and casting doubt on the jury's unanimous verdict in Melbourne's county court.
Dozens of paedophiles, rapists and violent sex offenders will be allowed to work with CHILDREN after winning appeals
Details

Created: Wednesday, 11 April 2018 19:52
Written by Sam Duncan - Daily Mail Australia
 Victorian Civil and Administrative Tribunal overturned over 12 bans in five years
Successful appeals have been made by paedophiles, rapists and sex offenders
The court decisions have been slammed by victims and child protection groups 
More than a dozen paedophiles, rapists and violent sex offenders have won the right to work with children through a series of court challenges.
Successful appeals at the Victorian Civil and Administrative Tribunal (VCAT) have resulted in over 12 working with children bans being overturned in just five years. 
Child sex abuse: Brisbane Grammar School imposes gag order for compensation
Details

Created: Thursday, 28 February 2019 19:22
Written by Claire Bickers - The Courier-Mail
VICTIMS of horrific child sex abuse at the hands of paedophile teacher Kevin Lynch have been forced to sign non-disclosure agreements to receive compensation payouts from Queensland's most expensive private school, Brisbane Grammar School.
The Courier-Mail can reveal the inner-city private school has quietly settled with "some 130 former students" abused by Lynch in the 1970s and '80s, and is in talks with 10 others.
Strength and sincerity': John Howard's glowing character reference for George Pell
Details

Created: Wednesday, 27 February 2019 01:59
Written by Christopher Knaus - Guardian Australia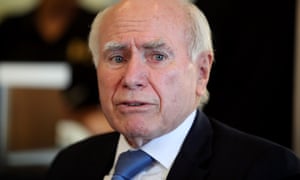 The former prime minister John Howard has described Cardinal George Pell as "a person of both high intelligence and exemplary character" and says that his conviction on child sexual abuse charges doesn't "alter my opinion of the Cardinal" in a character reference.
Howard's reference was published in full in the Herald Sun shortly after another former prime minister, Tony Abbott, described the George Pell verdict as "devastating … for the friends of Cardinal Pell".
Howard was one of 10 people to submit a character reference to Melbourne's county court on Wednesday during a sentencing hearing after Pell was found guilty of five counts of child sexual abuse in December last year.
More than 100 police under suspicion in paedophilia crackdown
Details

Created: Saturday, 03 January 2015 23:30
Written by Martin Smith - Daily Mail Australia
A list of more than 2,400 Britons who the FBI believes have subscribed to paedophile websites contains the names of more than 100 police officers, including a detective chief superintendent, it was revealed last night.
But in what was developing into a major scandal, it was also disclosed that it could take under-funded British police up to five years to work their way through the list and bring the culprits to justice.
The list - which contained the names of the two Cambridgeshire police officers who worked on the Jessica Chapman and Holly Wells murder inquiry and who have since been charged with child pornography offences - was supplied to Britain's National Crime Squad after three people suspected of involvement in paedophile websites were arrested in Texas.
Cardinal Sin: How Australia's newspapers reacted to Pell's conviction
Details

Created: Wednesday, 27 February 2019 02:07
Written by Alecomm2
Front pages dominated by news of cardinal being found guilty of child sexual assault.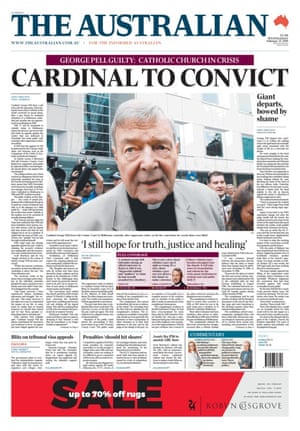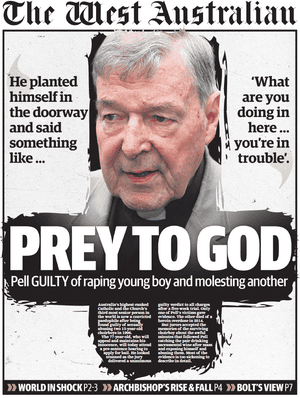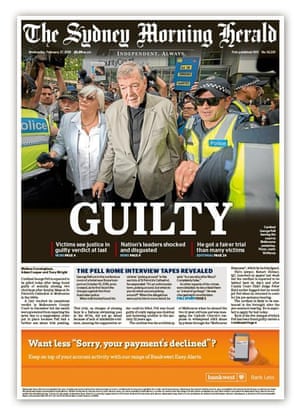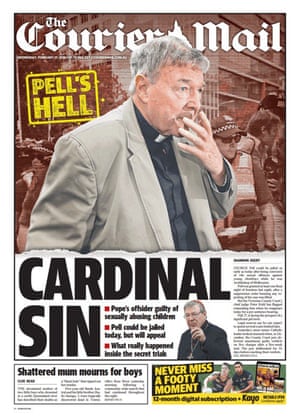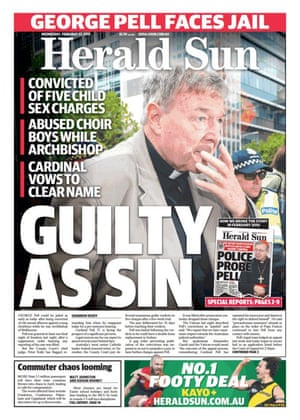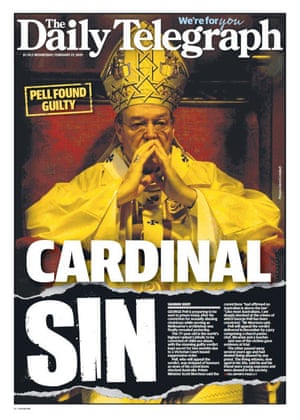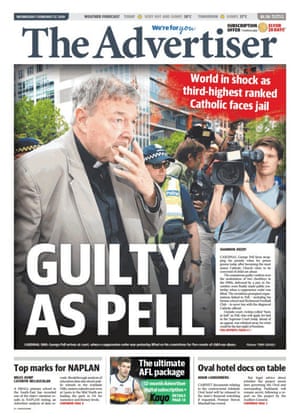 Source : https://www.theguardian.com/australia-news/gallery
Amanda Vanstone: The persecution of Pell is a disgrace
Details

Created: Friday, 02 June 2017 01:15
Written by Andrew Bolt - Herald Sun
Former Liberal Minister Amanda Vanstone is right.
What we are seeing is vicious and shameful:
The media frenzy surrounding Cardinal George Pell is the lowest point in civil discourse in my lifetime. I'm 64.

What we are seeing is no better than a lynch mob from the dark ages. Some in the media think they are above the law both overseas and at home.
Congress passes the "Paedophile Protection Act"
Details

Created: Friday, 22 October 2010 23:29
Written by Bob Unruh
Opponents worry over special 'hate crimes' treatment for homosexuals.
A "hate crimes" bill opponents claim will be used to crack down on Christian speech, even the reading of the Bible, is poised to be signed by President Obama, a longtime proponent of the plan to give homosexuals and others with alternative lifestyles special protections not provided other classes of citizens.
The Senate approved the measure 68-29 today after Democrats strategically attached it to a "must-pass" $680 billion defense appropriations plan.
Inside the Pell trial: we sat in court for months, forbidden from reporting a word
Details

Created: Wednesday, 27 February 2019 02:04
Written by Melissa Davey - Guardian Australia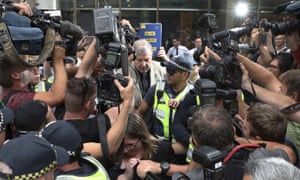 When the verdict came, the room was still. No one made a sound
For nearly three months a small group of journalists watched as the most powerful Catholic official to be charged with child sexual abuse faced justice in a Melbourne courtroom.
Until now we have been unable to publish a word of what we heard and saw.
Cardinal George Pell, a confidant to the pope and the financial manager of the Vatican, had been on trial for child sexual abuse – not once, but twice.