Also this month, but in Australia, a Victorian man convicted of raping a 14 year old boy in a public toilet in 1996 successfully obtained a Working with Children Check (WWCC).
The Herald Sun reported that back in 1996 after being raped, the young boy immediately went to police and reported the crime. The defendant who was 30 at the time, who cannot be named, pleaded guilty.
He was convicted but received a wholly suspended nine month sentence so he didn't spend any time in jail for the crime.
He now wants to work with disabled children and despite his initial application for a WWCC being rejected, he successfully appealed to the Victorian Civil and Administrative Tribunal.
Serial WA child rapist who claimed 'victims were willing' to be released from jail
Judges name:

Judge Anthony Derrick

Judges title:

Judge

Judges position:

Supreme Court Judge WA

Paedophile protected:

MGD - WA serial rapist

Paedophile protectors court location:

Western Australia

Type of protection :

Granting release
Details

Created: Friday, 03 May 2019 23:11
Written by Gary Adshead - 9 News Perth
The 65-year-old paedophile cannot be identified by law and his whereabouts in the community will be kept secret.
Known only as MGD, the man will be released from prison under Dangerous Sex Offender legislation that places him under strict supervision orders.
Abuser Name or Alias::

MGD - WA serial rapist
Mullighan report reveals decades of state care sex abuse
Details

Created: Tuesday, 17 March 2009 22:29
Written by Colin James - The Advertiser
THE horrific extent of sex abuse against children in state care over four decades has been revealed in the 600-page report of the Mullighan inquiry to State Parliament.
Retired Supreme Court judge Ted Mullighan, QC, yesterday issued a stark warning that children in state care would remain vulnerable to sex abuse unless urgent action was taken to overhaul a system in crisis.
His $13.5 million inquiry considered hundreds of allegations of widespread child abuse within government and non-government institutions, spanning 40 years.
Child sex abuse: Brisbane Grammar School imposes gag order for compensation
Details

Created: Thursday, 28 February 2019 19:22
Written by Claire Bickers - The Courier-Mail
VICTIMS of horrific child sex abuse at the hands of paedophile teacher Kevin Lynch have been forced to sign non-disclosure agreements to receive compensation payouts from Queensland's most expensive private school, Brisbane Grammar School.
The Courier-Mail can reveal the inner-city private school has quietly settled with "some 130 former students" abused by Lynch in the 1970s and '80s, and is in talks with 10 others.
Scott Morrison wanted Hillsong pastor Brian Houston at White House dinner: report
Details

Created: Saturday, 21 September 2019 22:49
Written by Fergus Hunter - Sydney Morning Herald
Prime Minister Scott Morrison reportedly wanted Hillsong pastor Brian Houston to be part of his delegation to the United States but was rebuffed by the Trump administration.
The Australian government put forward Mr Houston as an attendee for the official state dinner at the White House but gave up after the Americans "vetoed" the invitation during negotiations, The Wall Street Journal reported, citing several unnamed sources.
Hillsong's Brian Houston.CREDIT: JANIE BARRETT
A spokesman for Mr Morrison told The Age and The Sydney Morning Herald the guest list was a matter for the hosts.
Marc Dutroux
Details

Created: Monday, 19 August 2019 23:56
Written by Alecomm2
Marc Paul Alain Dutroux[1] (French: [dytʀu]; born 6 November 1956) is a Belgian convicted child molester and murderer.
Dutroux was convicted in 1989 for the abduction and rape of five young girls (with his then-wife Michelle Martin).
In 1996, Dutroux was arrested on suspicion of having kidnapped, tortured and sexually abused six females aged between 8 and 19, four of whom died. His widely publicised trial took place in 2004. Dutroux was convicted of all charges, along with the murder of a suspected former accomplice, and sentenced to life imprisonment. Martin was convicted as an accomplice.
A number of shortcomings in the Dutroux investigation caused widespread discontent in Belgium with the country's criminal justice system, and the ensuing scandal was one of the reasons for the reorganisation of Belgium's law enforcement agencies.
Abuser Name or Alias::

Marc Dutroux

Type of Abuse::

Sexual, Death
Cardinal Sin: How Australia's newspapers reacted to Pell's conviction
Details

Created: Wednesday, 27 February 2019 02:07
Written by Alecomm2
Front pages dominated by news of cardinal being found guilty of child sexual assault.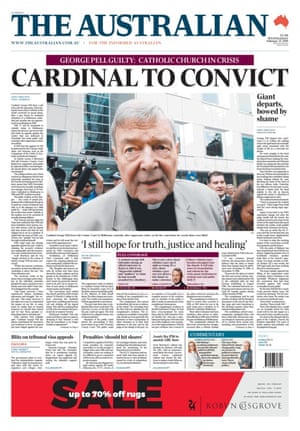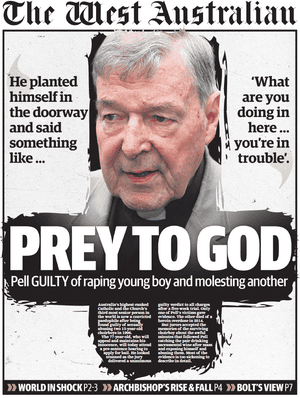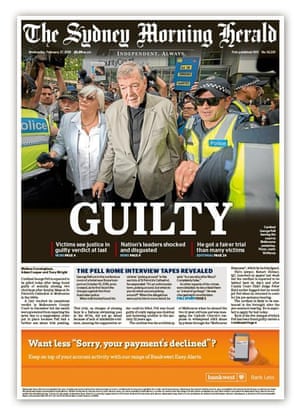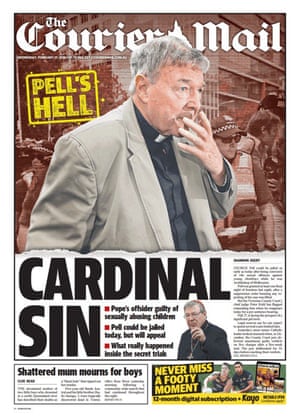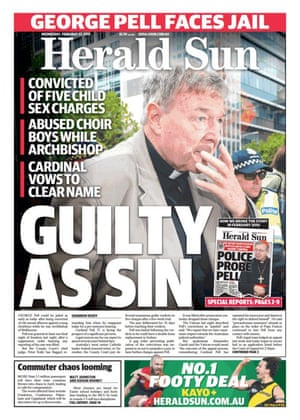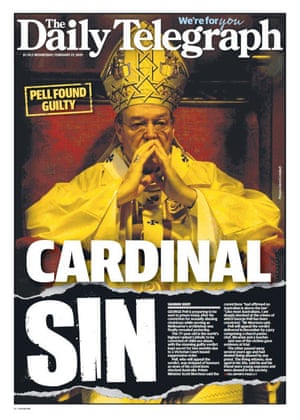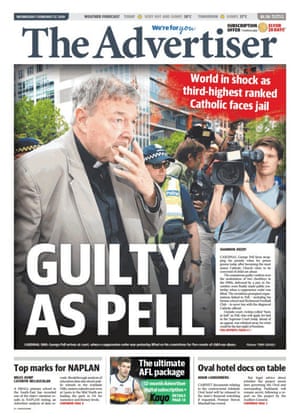 Source : https://www.theguardian.com/australia-news/gallery
Malcolm Turnbull urged to investigation former prime minister paedophile claims by sex abuse survivors
Details

Created: Wednesday, 21 October 2015 00:57
Written by News.com.au
Child sex abuse survivors advocates have backed calls from Liberal Senator Bill Heffernan to expand the royal commission into child sex abuse.
Belgium's silent heart of darkness
Details

Created: Sunday, 05 May 2002 23:47
Written by Olenka Frenkiel - The Guardian
In 1995, when two eight-year-old girls were kidnapped, Dutroux, a convicted sex offender, was a prime suspect from the start, yet he wasn't arrested for 14 months. By that time, four of his captives - including the two girls - were dead. Since his arrest, 20 potential witnesses connected with the case have died in mysterious circumstances, fuelling suspicions of a cover-up reaching the highest levels.
Abuser Name or Alias::

Marc Dutroux

Type of Abuse::

Sexual, Death

Matter Resolved?:

Yes
Inside the Pell trial: we sat in court for months, forbidden from reporting a word
Details

Created: Wednesday, 27 February 2019 02:04
Written by Melissa Davey - Guardian Australia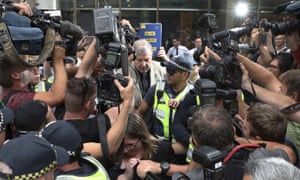 When the verdict came, the room was still. No one made a sound
For nearly three months a small group of journalists watched as the most powerful Catholic official to be charged with child sexual abuse faced justice in a Melbourne courtroom.
Until now we have been unable to publish a word of what we heard and saw.
Cardinal George Pell, a confidant to the pope and the financial manager of the Vatican, had been on trial for child sexual abuse – not once, but twice.